With classroom sizes steadily on the rise, dining halls are frequently at full capacity these days.
This means pupils often have to queue out of canteen doors and struggle to find a seat to sit down in at break times, leaving more-and-more nurseries, schools and colleges, in need of extra dining space.
That's where our outdoor dining shelters come in. Fully enclosed structures, which incorporate heating, lighting and drainage, they're a cost effective way of taking the pressure off packed dining halls.
Many nurseries, schools and colleges are turning their underused outdoor areas into much-needed dining space, simply by installing an outdoor dining shelter, that pupils and staff can use all-year round.
Our bespoke design, installation and manufacturing service, combined with our industry-leading site-specific calculations, means our outdoor dining canopies are engineered for purpose and built to last.
Benefits of outdoor dining canopies
Freestanding or wall-mounted, outdoor dining shelters instantly create that added wow factor, especially if you install our Cantabria canopy, which features a retractable roof that can be opened and closed at the touch of a button.
Safely secured to surrounding walls, our wall-mounted canopies don't have any supporting pillars or posts, creating fewer obstructions and providing maximum free space beneath them.
While our freestanding outdoor dining canopies can be installed:
In all sorts of locations
Away from existing buildings, as they don't need to be attached to other structures for support
What's more, as well as instantly providing additional dining space that can be used in wind, rain or shine, our outdoor dining shelter systems can double up as study or teaching space and be colour-matched to your branding too.
Gallery
Outdoor dining canopies are widely used by nurseries, schools and colleges to create much-needed extra dining space and can be used for studying and teaching too. Here are some examples.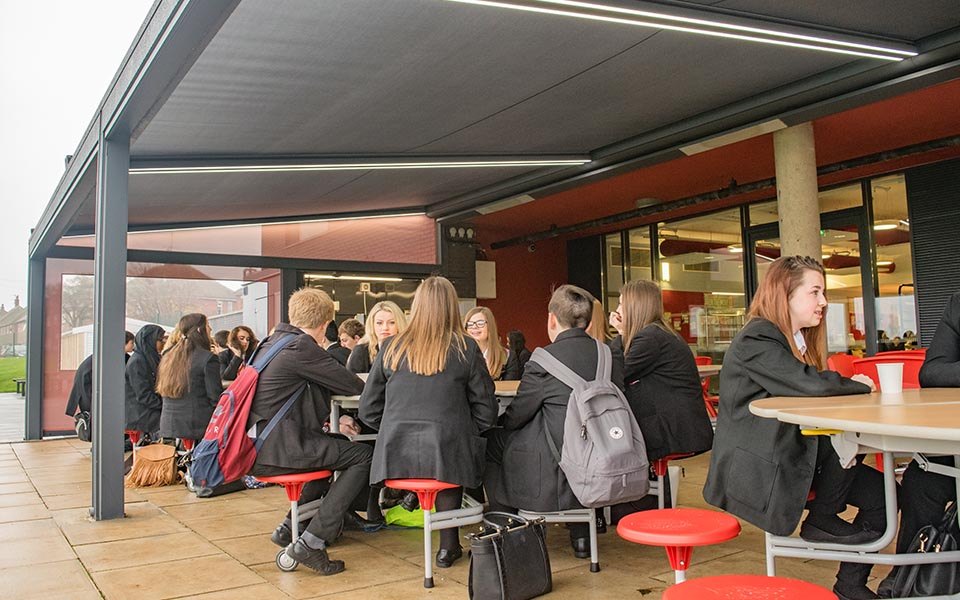 Case Studies
View our case studies and see how our canopies are helping so many organisations get more from their outdoor space.
See results
Available Systems:
Connekt
Our Connekt canopy system is a modular system and can be any length – you can even add to it in the future. It is highly versatile and hugely popular, with no limit to how it projects. It is suitable for all outdoor areas, and the cantilevered option is 100% self-supporting.
View system
Cantabria
Our Cantabria canopy allows venues to seat more customers comfortably all-year round. It features a retractable roof that can be opened and closed at the touch of a button, and is available in any length. It incorporates glass sides, LED lighting and heating.
View system
Download a Brochure
For more information about our canopies and the options available to you, download our brochure.