When it's raining, snowing or icy, your operations still need to continue business as usual, which can sometimes result in weather-damaged goods.
Damaged goods can lead to expensive losses that can be inevitable when you're loading and offloading stock, especially during the winter months.
Available in the widest range of sizes, freestanding or wall-mounted, our factory and warehouse canopies are used to create all sorts of sheltered spaces, ranging from covered entranceways to loading bays. They can also double up as staff meeting points and valuable storage space too.
Make the right first impression
Our covered entranceways can help make factories and warehouses make the right first impression to staff and visitors, as well as provide all-year round protection from the elements.
All of our systems can be colour-matched to branding or existing buildings and offer protection from the wind, rain and snow, as well as the sun's harmful UV rays, thanks to the Melinex gel-coated roof.
Tailored to your requirements using our bespoke design, manufacturing and installation service, our canopies for education are created with one thing in mind – to 100% meet your needs. And thanks to our industry-leading site-specific calculations, we can guarantee your canopy is the right solution and withstands the test of time.
Case Studies
View our case studies and see how our canopies are helping so many organisations get more from their outdoor space.
See results
Gallery
Want to explore the options available for your warehouse? Take a look at our commercial canopies that have been specifically designed for factories and warehousing.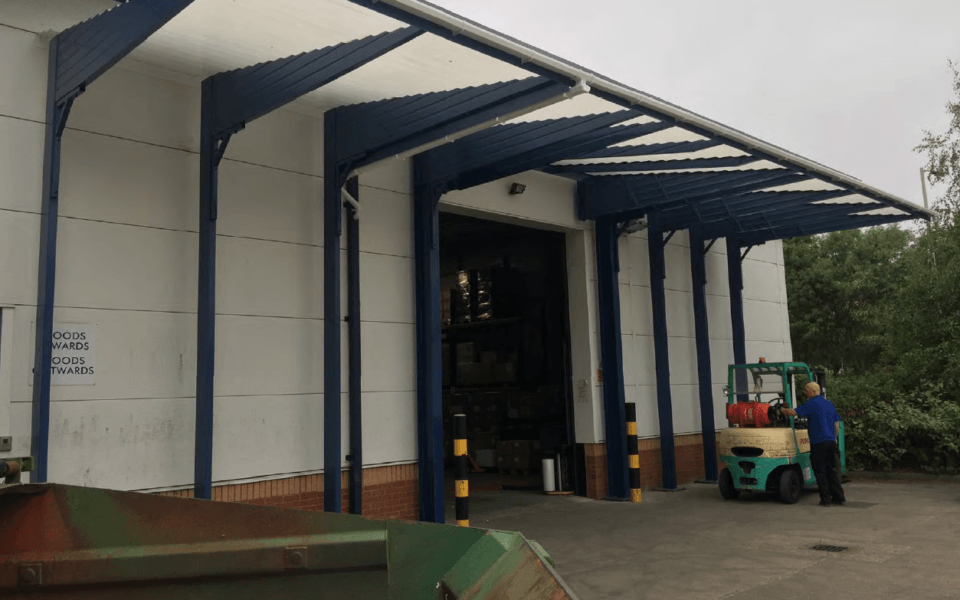 Download a Brochure
For more information about our canopies and the options available to you, download our brochure.
View all sectors
Explore the options for your school, restaurant, hospital or business by browsing through our products sector-by-sector.
Browse sectors
Browse by product
Want to find out more about the types of canopies we manufacture? You can view our extensive range product-by-product.
Find products