When space is at a premium, catering for more students can be a whole new challenge in itself. But it doesn't have to be, not with one of our outdoor dining canopies on-site.
Outdoor dining canopies are increasingly being used to create extra seating space, which means more children can be served during the lunch break. It also means that lots of outdoor areas that aren't necessarily used all-year round due to the weather can now be put to good use in the spring, summer, autumn and winter.
More-and-more nurseries, schools and colleges are:
Creating the much-needed additional space that's required, simply by installing an outdoor dining canopy.
Getting the maximum use from their outdoor space in the process too.
Benefits of outdoor dining canopies
Freestanding or wall-mounted, outdoor dining canopies instantly create that added wow factor, especially if you install our Cantabria canopy, which features a retractable roof that can be opened and closed at the touch of a button.
Safely secured to surrounding walls, our wall-mounted canopies don't have any supporting pillars or posts, creating fewer obstructions and providing maximum free space beneath them. While our freestanding outdoor dining canopies can be installed in all sorts of locations, away from existing buildings, as they don't need to be attached to other structures for support.
What's more, as well as instantly providing additional dining space that can be used in wind, rain or shine, our outdoor dining shelter systems can double up as study or teaching space and be colour-matched to your branding too.
Our bespoke design, installation and manufacturing service, combined with our industry-leading site-specific calculations, means our outdoor dining canopies are engineered for purpose and built to last.
Gallery
We've installed countless dining canopies at nurseries, schools and colleges, enabling their contract caterers to serve plenty of students now – and for years to come. View our examples below.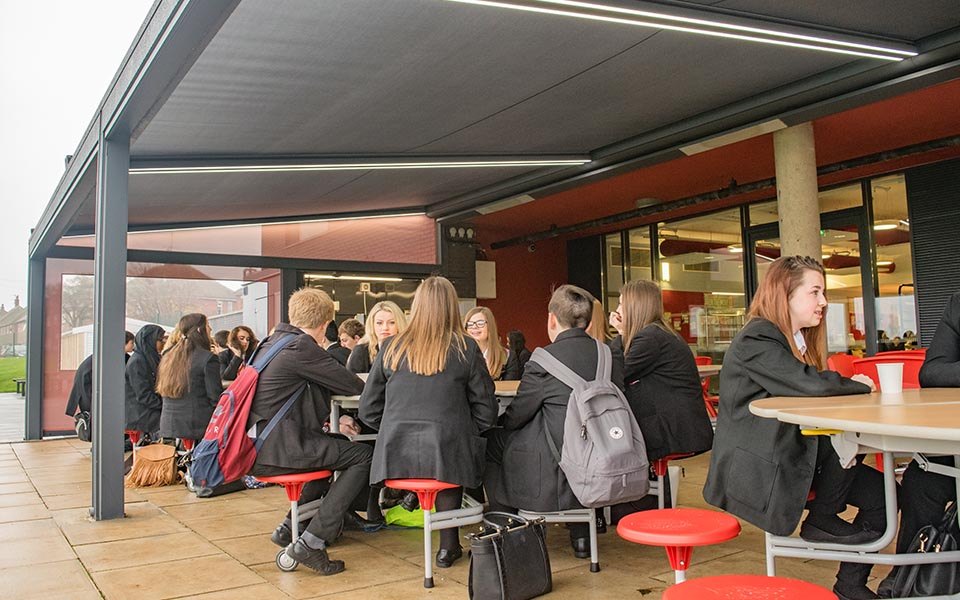 Available Systems:
Connekt
Our Connekt canopy system is a modular system and can be any length – you can even add to it in the future. It is highly versatile and hugely popular, with no limit to how it projects. It is suitable for all outdoor areas, and the cantilevered option is 100% self-supporting.
View system
Cantabria
Our Cantabria canopy allows venues to seat more customers comfortably all-year round. It features a retractable roof that can be opened and closed at the touch of a button, and is available in any length. It incorporates glass sides, LED lighting and heating.
View system
Download a Brochure
For more information about our canopies and the options available to you, download our brochure.