Used by multiple organisations across multiple sectors, commercial canopy systems are being increasingly installed by companies for wide-ranging reasons.
For instance, they can be used to create covered walkways that link one building to another and shelter staff from the elements as they make their way from one site to the next.
Office entrance canopies turn entrances into grand entrances, making a good first impression and providing that all-important protection from the weather. Meanwhile car park canopies look impressive and highly professional and protect car users from the wind, rain and snow.
It's possible to install a smoking shelter in most areas, large or small, thanks to our bespoke design, manufacturing and installation service. And this, when coupled with our industry-leading site-specific calculations, gives you peace of mind that your smoking shelter is engineered for purpose and built to last.
Freestanding or wall-mounted structures
Available as freestanding or wall-mounted structures, our commercial canopies can be designed to match your corporate branding.
Our wall-mounted systems are safely and securely installed to the surrounding walls, instantly opening up the amount of available space below. Due to the freestanding nature of their design, freestanding canopies and shelters can be installed virtually anywhere, space-permitting, as they aren't attached to existing buildings.
Case Studies
View our case studies and see how our canopies are helping so many organisations get more from their outdoor space.
See results
Gallery
Want to explore the options available for your business premises? Take a look at our commercial canopies that have been specifically designed for the office world.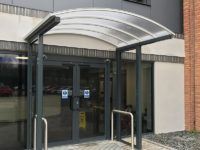 Download a Brochure
For more information about our canopies and the options available to you, download our brochure.
View all sectors
Explore the options for your school, restaurant, hospital or business by browsing through our products sector-by-sector.
Browse sectors
Browse by product
Want to find out more about the types of canopies we manufacture? You can view our extensive range product-by-product.
Find products