What are our canopies made of?
Posted on | Posted in Commercial, Helpful Guides, Products
What are our canopies made of?
At first glance, canopies appear to be relatively straightforward structures.
But what many people don't realise, is just how much design and build acumen, not to mention time, is involved in producing an outdoor canopy.
We obviously can't speak for other canopy manufacturers, but the highest level of design and manufacturing expertise goes into creating each and every one of our canopies at our site in Darwen.
As well as working to the highest standard, we're renowned for producing systems that withstand the test of time. One of the ways we achieve this is by pairing our industry-leading building canopy design and manufacture with industry-leading materials that enable us to achieve a functional and beautiful quality finish.
So, what do we use exactly?
Our canopies are made from a combination of materials for strength:
Connekt canopies – are made from maintenance free GRP (glass reinforced polyester) beams, overlaid with GRP roofing panels. The roofing panels have a UV protective coating and all ancillary steelwork is galvanised and powder coated.
Olympus and Monza canopies – are made from galvanised and powder coated steel, powder coated aluminium profiles and transparent or opaline polycarbonate glazing.
Strong + lightweight materials
We've been manufacturing canopies for 30 years  During this time we've always made sure that our canopies are made to last. The materials we use allow us to produce canopies that:
√  Are robust.
√  Require minimal (if any) maintenance.
√  Are lightweight.
√  Can be installed in a fraction of the time of building works.
GRP greatness
Over the years, GRP has really proven itself to be the jewel in our materials work box, for many reasons, including the fact it's strong, versatile and long-lasting. It's one of the main materials we use to create our Connekt canopies because of its qualities.
It's factors such as these that make it the ideal contender for our cantilevered canopy designs, which are installed without any supporting posts at the front end. From a design and longevity perspective, the structure has to be lightweight and robust. Our cantilever carport awning is a great practical example of this…
Making more of the materials
Before we wrap up this post, we couldn't focus on the materials we use without mentioning an element of our canopy design that goes hand-in-hand with them – colour.
Colour has the ability to make a major impact on the final look of our canopies, transforming what is essentially a structure that's made from the same set of materials, into a distinctive shelter that blends in seamlessly, yet is different from the next. Our colour-matching service enables our customers to personalise their canopies in any colour they like – we can replicate any RAL code.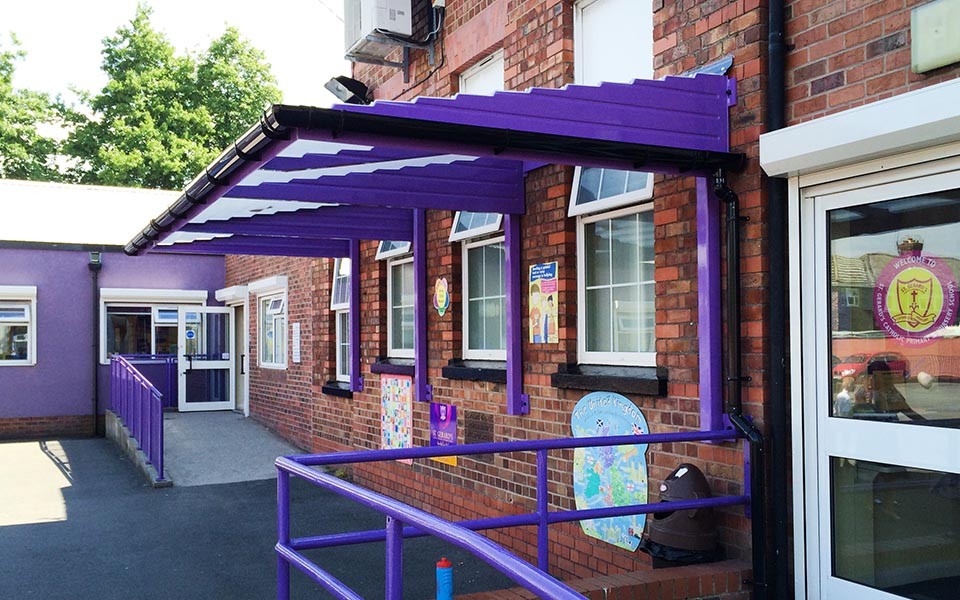 For more information about our building canopy design, manufacturing or installation, contact us on 01254 777 002 or info@canopiesuk.co.uk. In the meantime, to see how the materials we've just mentioned combine to make our market-leading canopies, take a look at our case studies.