Freestanding entrance canopies are a hugely effective way of providing shelter from the weather with minimum obstructions.
Used by sectors ranging from education and hospitality, to healthcare and commercial, freestanding entrance canopies don't need to be attached to or supported by other structures. And they can also be designed so that the supporting posts are positioned at the back, minimising the risk of obstruction and fully opening up the space beneath.
Based on our industry-leading site-specific calculations and bespoke design, manufacturing and installation, our freestanding entrance canopies, which include the highly stylish Italia and Olympus and hugely popular Connekt systems, are engineered for purpose and built to last.
Due to our in-house design, manufacturing and installation capabilities, we create entrance canopies that are tailored to our customers' requirements. This can range from manufacturing entrance canopies with supporting posts, to variations such as wall-mounted systems and freestanding entrance canopies.
Gallery
Freestanding entrance canopies provide shelter from the elements and don't need to be attached to or supported by other structures. Here are some examples of our freestanding systems.
Case Studies
View our case studies and see how our canopies are helping so many organisations get more from their outdoor space.
See results
Available Systems:
Connekt
Our Connekt canopy system is a modular system and can be any length – you can even add to it in the future. It is highly versatile and is used singularly or in multiples to cover large areas. It projects up to 4m when fixed to a building and the cantilevered design means no supporting posts are needed.
View system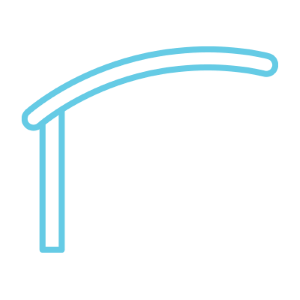 Italia
Our Italia canopy is sleek and highly attractive, looking really contemporary with its aluminium structure and silver shine finish. It is available with a curved, flat or angular roof, and in five different models – The Monza, The Sienna, Verona, Livorno and Salerno.
View system
Download a Brochure
For more information about our canopies and the options available to you, download our brochure.
View all products
Want to find out more about the types of canopies we manufacture? You can view our extensive range product-by-product.
Find products
Browse by sector
Explore the options for your school, restaurant, hospital or business by browsing through our products sector-by-sector.
Find your sector